Jiang, Xiaotong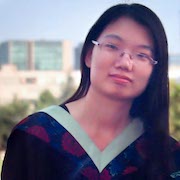 Plant Biology
Research interests: The role of photosynthesis and photorespiration under stress conditions.
Quick Profile
What got you interested in plants and plant science?
The amazing biological phenomena in plants made me want to explore their mechanisms.
What is your research about?
Plant resistance to stress.
What is the potential societal impact of your research?
Understanding how plants resist stresses could lead to improvements in crop yield.
Where do you see yourself in 10 years?
I want to work at a research institution.
On a Saturday afternoon, you'll likely find me:
In the lab.