Engelgau, Philip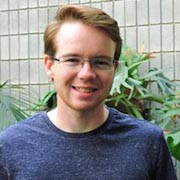 Horticulture
Research interests: Genomic and molecular factors which are responsible for desirable sensory traits in fruit such as taste, color and aroma.
Quick Profile
What got you interested in plants and plant science?
The self-sufficiency and ostensibly pacific nature of plants offers such as strong contrast to that of animals that I've been interested in them for a long time.
What is your research about?
I study modifications of branched-chain amino acid metabolism which allow for the production of precursors of important aroma compounds in apple and banana fruit.
What is the potential societal impact of your research?
The aroma of the foods we eat has a tremendous impact on the overall flavor and enjoyment of our meals. Understanding how plants are able to modify their metabolic processes for aroma production can provide breeders with tools to naturally improve the flavor of the foods we eat.
Where do you see yourself in 10 years?
In 10 years I see myself pursuing a faculty position in which I can study the genetic underpinnings of desirable attributes of fruit.
On a Saturday afternoon, you'll likely find me:
Hiking, biking or reading in one of Michigan's many parks.