Li, Pai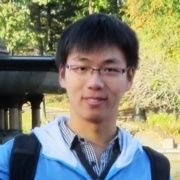 Plant Biology
Research interests: Plant immunity and the cytoskeleton.
Quick Profile
What got you interested in plants and plant science?
I got interested in plants because they are very cool organisms. I also like the color green.
What is your research about?
My research is on plant immunity and the cytoskeleton. In other words, how the cytoskeleton works during plant-microbe interactions.
What is the potential societal impact of your research?
I think this research could improve crop resiliency, and it could provide novel ideas for tackling related topics in animal systems.
Where do you see yourself in 10 years?
Trying my best to be an outstanding scholar.
On a Saturday afternoon, you'll likely find me:
Taking care of my garden.
How has your graduate career been impacted by your campus and educational experiences?
The campus and working atmosphere have provided strong and positive impacts that benefit my career.