Schlecht, Nicholas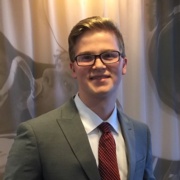 Biochemistry & Molecular Biology
Research interests: Elucidating terpenoid pathways and biosynthesis.
Quick Profile
What got you interested in plants and plant science?
I took a class about conversion of biomass into bioproducts and biofuels, and it made me realize how much plants have going on for them that I never considered before. I wanted to personally see just how much we can gain from them.
Where do you see yourself in 10 years?
As of right now I'd love to become a professor at a major university where I can inspire future scientists as well as advance a field of biology myself!
On a Saturday afternoon, you'll likely find me:
With some friends hanging out, maybe playing board games, or doing something we've never done before.