Jacobs, MacKenzie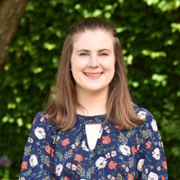 Biochemistry & Molecular Biology
Research interests: Blueberry fruit metabolite variation and strawberry subgenome expression dominance and pangenomics.
Quick Profile
What got you interested in plants and plant science?
Botany class, medicinal botany class, undergrad research, and MSU Plant Genomics REU.
What is your research about?
I'm currently unsure of my research direction, as I will rotate in 3 different labs.
Where do you see yourself in 10 years?
I see myself as a professor at a small university running a lab that primarily consists of undergraduate students.
On a Saturday afternoon, you'll likely find me:
Outdoors! possibly reading or relaxing
Twitter: @mackenziej31
Instagram: @mackenziej31
Snapchat: @macken_cheese31