Smith, Kaila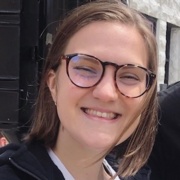 Plant Biology
Research interests: Improving photosynthetic fluxes by increasing our understanding of the crosstalk between photosynthesis and photorespiration.
Quick Profile
What got you interested in plants and plant science?
I am fascinated by how plants provide such integral resources such as oxygen, food, fuel, and fibers and allow for advancements in advancements in agriculture, medicine, biomaterials, and the environment.
What is your research about?
My research will examine physiological responses to abiotic stresses, such as heat or drought, and associated molecular mechanisms.
What is the potential societal impact of your research?
My research will hopefully aid agricultural industries by improving plant responses to abiotic stresses to increase crop yields.
Where do you see yourself in 10 years?
I see myself working in the agricultural industry.
On a Saturday afternoon, you'll likely find me:
Running or drinking an iced coffee.