Hird, Krystina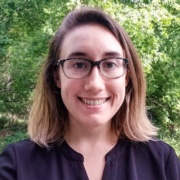 Biochemistry & Molecular Biology
Research interests: Elucidating the mechanism of cytochrome c nitrite reductase, a key enzyme in the global nitrogen cycle.
Quick Profile
What got you interested in plants and plant science?
I have been a Girl Scout my entire life and in middle school I was at camp one summer when we learned about medicinal and edible wild plants. I remember how absolutely fascinating it all was. Ever since then I've been interested in studying plants in school and in my free time.
What is your research about?
Since I am a new graduate student, I will be doing rotations until I find a group that interests me.
Where do you see yourself in 10 years?
In 10 years I hope that I am working in the bioenergy/biofuel industry, running projects and leading a team of scientists in order to make greener energy.
On a Saturday afternoon, you'll likely find me:
On a Saturday afternoon, you can find me going on a hike/to the farmers market, reading a book on my porch, or cleaning my apartment while also checking if anyone wants to hang out so that I can stop cleaning my apartment.