Brown, Hannah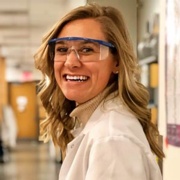 Plant Biology
Research interests: TBD.
Quick Profile
What got you interested in plants and plant science?
I grew up in a heavily agricultural area and have always had a fascination for plants, but it wasn't until college that I really found my passion for plant sciences. I was able to study abroad in Ecuador and the Galápagos Islands for a semester, and during my time there I studied many different plant species endemic to the islands. This experience really solidified that I want to study plants as a career.
What is your research about?
I am currently doing rotations right now, however all of the labs I am rotating in study plant genetics and genetic responses.
What is the potential societal impact of your research?
I am hoping that my research will further the scientific community's understanding of plant genetic responses to stresses, especially as we move into an ever-changing global climate. Ultimately, I would like to see my work as a researcher impact agriculture and help solve the global food crisis.
Where do you see yourself in 10 years?
I see myself as an assistant professor teaching and running my own lab working towards gaining tenure.
On a Saturday afternoon, you'll likely find me:
Outside at the lake. I love doing anything outdoors, especially if water is involved.
Facebook: Hannah Brown
Instagram: hannah.madison4