Roggenkamp, Emily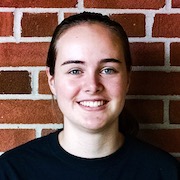 Genetics & Genome Sciences
Research interests: Pathogen infection and resistance mechanisms.
Quick Profile
What got you interested in plants and plant science?
My love for nature and wanting to help with agriculture related problems (which stem from growing up on a farm).
What is your research about?
I'm currently doing my lab rotations. I'm working on protein interactions. Generally, I want to look into plant defense and stress response mechanisms.
What is the potential societal impact of your research?
For me, it's about others being able to use our findings on basic research to help with applied research in agriculture.
Where do you see yourself in 10 years?
I would like to be a professor researching both basic and applied areas.
On a Saturday afternoon, you'll likely find me:
Relaxing at home.