Lanier, Emily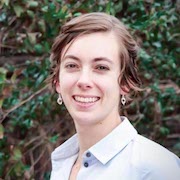 Biochemistry & Molecular Biology
Research interests: Using synthetic biology to harness production of plant metabolites as high value chemicals for industry and medicine.
Quick Profile
What got you interested in plants and plant science?
My mom was an avid gardener and I grew up learning the names of all the wildflowers native to my area.
What is your research about?
I'm interested in biosynthesis of medicinal and useful plant specialized metabolites, particularly terpenes. This includes pathway discovery as well as using synthetic biology to produce these compounds in industrial host organisms, like E. coli.
What is the potential societal impact of your research?
Synthetic biology has the potential to produce compounds unreachable by traditional synthetic methods, allowing production of high value metabolites or intermediates. Plus, it's the "green and sustainable" future of industrial chemical production.
Where do you see yourself in 10 years?
I'd like to work as a research scientist in industry as well as developing early stage technologies for commercialization.
On a Saturday afternoon, you'll likely find me:
Looking for a place to go hiking.