Jennings, Emily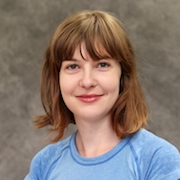 Plant Biology
Research interests: Understanding how chloroplast morphology is regulated in plants.
Quick Profile
What is your research about?
I am working to determine how chloroplast morphology (shape and size) is regulated in the tropical plant genus Peperomia.
What is the potential societal impact of your research?
My work will provide a better basic understanding of how chloroplast morphology is controlled by the plant cell, which in turn could allow for the engineering of more light-tolerant crop plants.
On a Saturday afternoon, you'll likely find me:
Grading with my cats.